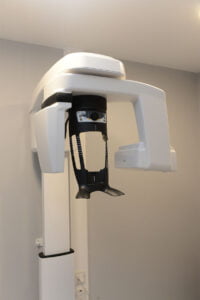 Dental x-rays are commonly used throughout treatment to provide your dentist with more information on the structure of your teeth and gums. Depending on the type of x-rays taken, they may be used to assess the level of tooth decay, tooth structure, existing fillings and crowns, or level of supporting bone. The type of x-ray your dentist takes will depend on the information they require.
At Renmore Dental, we pride ourselves in using only the most advanced equipment and continuously investing in the latest technology, to ensure you receive the best possible treatment, and only use digital radiographs for the safest images.
Intraoral x-rays
Intraoral x-rays are small yet detailed radiographs, and are the most common form of x-rays used in dentistry. Your dentist may use these x-rays during your dental examination in order to check the teeth for cavities and decay, examine the roots of the teeth, or to look for signs of gingivitis, gum disease and bone loss. There are several different types of intraoral x-rays, including bitewing x-rays, peripheral x-rays, and occlusal x-rays.
Panoramic x-ray (OPG)
Sometimes, your dentist may require a large, full mouth dental x-ray called a panoramic x-ray, or OPG. An OPG may be required in order for the dentist to examine your wisdom teeth, bone loss, sinus issues, or cysts/tumours within the jawbone. OPG x-rays can aid your dentist in prescribing the correct treatment plan for your specific needs, and will only be taken when necessary. 
For certain treatments, such as dental implants, a full 3D (CBCT) scan may be required, as this shows a detailed image of the underlying bone, soft tissues, and nerve pathways. At Renmore Dental, we are delighted to offer our patients treatment using only the latest technology with our own 3D imaging CBCT machine.